What is a Payment Gateway, and Why do I need one?
Many small and medium business eCommerce websites do not have the resources necessary to construct a direct connection with the appropriate payment processing networks. That is why payment gateways like Authorize.net are useful. They provide merchants like you with a solid infrastructure and the security needed to connect your website to the payment processing networks. Think of the payment gateway as the virtual version of a traditional credit card swipe machine you would find on the counter at a brick and mortar retail store.
What is a Merchant Account?
A merchant account is a business bank account that allows you to collect payments from credit card or consumer bank accounts. Merchant accounts are provided by acquiring banks – financial institutions that verify the availability of funds, authorize transactions, and obtain and deposit funds from the customer's bank into your merchant account.
Why Authorize is the preferred payment gateway of so many businesses and merchants:
The Safety of Your Money is Important: Authorize can help you get setup with a merchant account through an established financial institution, so your that your funds are FDIC insured.
You don't want to lose customers: Credit Cards are the most popular way for web shoppers to make website payments for their purchases. If you do not directly accept credit cards, you may be turning away a lot of customers.
Advanced Fraud Protection:You are in control with the ability to choose the anti-fraud features that suit your business:

Authorize.Net Fraud Detection Suite™ (FDS)
Address Verification Service (AVS)
Card Code Verification (CCV)

Professional Customer Support

Online Help Pages
Phone Support
Chat Support
E-mail Support

Customers Love It:With proper integration, customers are able to make payments without leaving your website.
Gain Credibility:Accepting credit card online payments directly on your website lends credibility that you have an established business.
---
Email Marketing with Constant Contact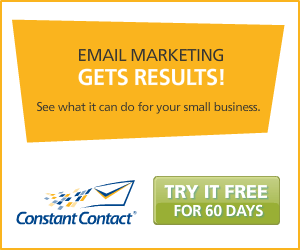 Email Marketing by Constant Contact® is the way to go if you're looking for an easy, effective, and highly affordable way to get your message out there.
Whether you're looking send html email to existing customers, club members, or new signups, you'll certainly show your professional edge in your marketing campaigns.
You won't need a degree in computer science in order to setup your newsletters. Instead, you'll use an easy-to-use interface to create your message.
You'll have your choice of over 400 email templates that are customizable with an easy to use editor. Alternatively, you or your designer can create your own email templates from scratch. Need help getting started? There are many email examples to help you get your bearings.
In one sitting, you can create a visually appealing, professional email newsletter email or promotion for your business or group.
If you're looking to send more traffic to your website, you'll have the power to create a targeted email campaign to do so.
Have you been trying to figure out how to create a mailing list? Building and managing your email contacts has never been easier. You can import your existing customer lists, add individual names one by one, or gather new emails from your website visitors
Instantly track and evaluate your email campaign results as you check click-throughs,opens, and new subscribers. This will help you renew and adapt your new campaigns as you go.
Send auto welcome emails to new subscribers.
Send your email campaigns with confidence, knowing that Constant Contact is helping you get your emails in the right hands while still maintaining CAN-SPAM compliance.
Learn how Email Marketing with Constant Contact can help you connect with your customer base, widen your audience, strengthen your current relationships, and grow your brand recognition.
Get your message out there in style. You'll quickly develop effective, stylish emails. Even more importantly, you'll build connections with your readers that lead to referrals, repeat business and customer loyalty.
Need a little help? Ask about our newsletter tutorials. Whether you'll be sending a daily newsletter or periodic company announcements, we can teach you how to use Constant Contact to get your message out there!
---
Try PayPal for your website today!
Paypal is a great way to get started with eCommerce on your website. Within minutes, you can be ready to start accepting payments from your online customers.
Whether you're looking to integrate paypal buttons, add paypal links, or a full eCommerce cart using paypal, you'll be using a payment system that millions of users know and trust. People like the fact that they can pay with the method they prefer, including credit cards, bank accounts or paypal account balances, without sharing financial information with the website they're browsing.
Your customers do not have to have a pay pal account in order to pay you.
If you're looking for information on how to use paypal on your website, PMD can help you!
Paypal for business is not a new concept. It is a global leader in online payment solutions with more than 153 million accounts worldwide. Using paypal on your website does not have to be difficult. Contact Platinum Monarch Design in order to find out more information on how to integrate the paypal payment system with your website.